Accuracy Score
What is the Accuracy Score?​
Diagrams and docs get out-of-date almost instantly and trusting documents that have been created often lacks because of this. This leads to endless questions or mis informed decision making further down the line - costly mistakes. The IcePanel Accuracy Score is our way to make meaningful documentation that can be trusted from the start, without needing to ask the creator questions (if you even know who they are...).
Each diagram has its own inaccuracy count, seen in the header bar towards the top left, so you know what is inaccurate about the diagram you're viewing. This score is diagram specific, so it's always contextual to what you're looking at.

Inaccuracy count stages. A lot of inaccuracies (left) to no inaccuracies (right).
The Accuracy Score links to your docs in 2 places:
Inaccurate comments - Your teammates can add inaccurate comments to mark things that need updating or need attention.
Reality linking - Link your code repo's, branches, folders and files to your model objects to bridge the model code gap. We'll automatically detect when changes occur and notify you about them, so you know when your deign is drifting from reality.
Improving your Accuracy Score​
How to increase your Accuracy Score:
Resolve all inaccurate comments to ensure that your Accuracy Score is not being reduced because of them. This is the best way to keep your docs up-to-date and keep that score at "inbox 0".
Keep your reality links up-to-date, fixing any expired or missing links.
Linking Reality to your Accuracy Score​
See Reality linking for more.
In IcePanel you can link your model objects to reality, such as code repo's, branches, folders and files. When those links move, change name or get deleted, we will notify you that that object may need to be updated in your IcePanel landscape.
When a link is marked as expired or missing, your Accuracy Score will reduce as a reminder to update the link or remove that object from your model - Helping you keep your documentation up-to-date!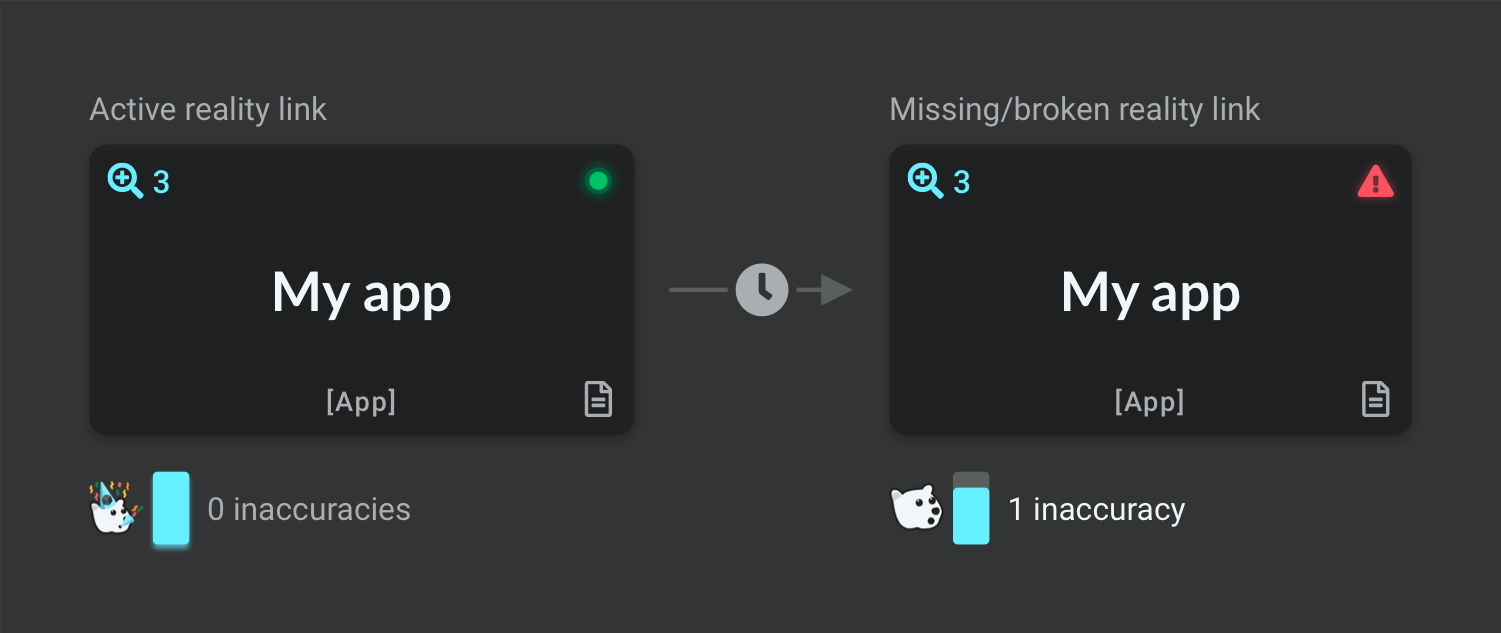 Coming soon...​
We have loads of ideas for other areas we can link to reality, but we want to hear from you - What in reality would you like to link to? Contact us to let us know your ideas!